Kanji: 縫. Radical: 糸. Number of strokes: 16. Meaning: " sew". Pronunciation: ホウ、ぬ-うhō, nu-u.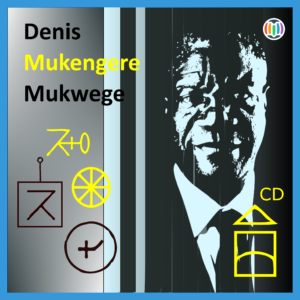 On May 21st, we will stop at Panzi Hospital in the Democratic Republic of Congo
With Dr. Denis Mukwege
Born in 1955 in Bukavu, South Kivu province,
Young Denis discovers life at the side of his father, a pastor,
And of its commitment to those who suffer
Taking the decision to alleviate the world's sorrows in turn
He chooses the path of medicine
And more particularly gynecology
After his training in France
He makes a choice of conscience
The one to work in the native country
Where the worst observations that can be made are waiting for it
That of countless women and girls who have been raped and mutilated
He will make it his life's fight
Denouncing rape as a weapon of war
By all means
By all possible commitments
Assisting every woman, every being,
Working to prevent these crimes,
Opposing the madness of a world abandoned to its distress
Abyssal task if any
And how disturbing for some
So much that an attack will try to stop him in 2012
Although this does not alter his trajectory in any way
On May 21st, we will remember
And pay tributes paid to Dr Mukwege
Human Rights Award (UN) in 2008,
Sakharov Prize for Freedom of Thought in 2014 (European Parliament),
Nobel Peace Prize in 2018 alongside Nadia Murad,
So many distinctions that did not affect anything, quite the contrary,
The human simplicity of a man of heart and unfailing commitment...
He was given the nickname "the man who repairs women"
As if to better shout out the crying abjection he is fighting against
And the tireless hope that he embodies...
---
Denis Mukwege à l'hôpital de Panzi
Le 21 Mai, nous nous arrêterons à l'Hôpital de Panzi, en République Démocratique du Congo
Auprès du docteur Denis Mukwege

Né en 1955 à Bukavu, dans la province du Sud-Kivu,
Le jeune Denis découvre la vie aux côtés de son père, pasteur,
Et de son engagement auprès de celles et ceux qui souffrent

Prenant la décision d'apaiser à son tour les peines du monde
Il choisit la voie de la médecine
Et plus particulièrement de la gynécologie

Après sa formation en France
Il fait un choix de conscience
Celui de travailler au pays natal
Là où l'attendent les pires constats qui puissent être
Celui d'innombrables femmes, d'innombrables filles, violées, mutilées

Il en fera son combat de vie
Dénoncer le viol comme arme de guerre
Par tous les moyens
Par tous les engagements possibles
Assister chaque femme, chaque être,
Qui en est victime
Œuvrer à prévenir ces crimes,
S'opposant à la folie d'un monde abandonné à sa détresse

Tâche abyssale s'il en est
Et ô combien dérangeante pour certains
Au point qu'un attentat tente de l'en empêcher définitivement en 2012

Ce qui ne modifie en rien sa trajectoire
Le 21 Mai, nous nous rappellerons
Aux hommages qui lui sont rendus

Prix des droits de l'homme (UN) en 2008,
Prix Sakharov pour la liberté de l'esprit en 2014 (Parlement européen),
Prix Nobel de la Paix en 2018 aux côtés de Nadia Murad,
Autant de distinctions qui n'ont en rien affecté, tout au contraire,
L'humaine simplicité d'un homme de cœur et d'engagement sans faille…

On lui a donné le surnom « l'homme qui répare les femmes »
Comme pour mieux crier l'abjection criante qu'il combat
Et l'infatigable espérance qu'il incarne…