internet / internet / 因特网 (yīntèwǎng) / internet / Internet / internet / インターネット (intānetto) / Интерне́т (Internét)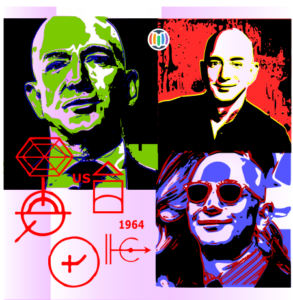 Jeffrey Preston Bezos né Jorgensen (1964-) - An American technology entrepreneur, founder, CEO, and president of Amazon.com, Inc. Working on Wall Street in different fields (1986-1994), he started Amazon in late 1994 as an online bookstore expanded it to a wide variety of other e-commerce products and services which was to become the world's largest online sales company. He also founded Blue Origin, a aerospace manufacturer and spaceflight services company and purchased The Washington Post in 2013. All this commercial success granted him to be named the "richest man in modern history".
---
Jeffrey Preston Bezos né Jorgensen (1964-) dit Jeff Bezos - Entrepreneur américain, fondateur et PDG d'Amazon.com. Travaillant à Wall Street dans différents domaines (1986-1994), il créa Amazon à la fin de 1994 sous la forme d'une librairie en ligne. L'étendant à une grande variété de produits et de services de commerce électronique, Amazon est devenue la plus grande société de vente en ligne au monde. Il a également fondé Blue Origin, un fabricant aérospatial et une société de services de vol spatial, et a acheté le Washington Post en 2013. Ce succès commercial lui a valu d'être nommé « l'homme le plus riche de l'histoire moderne ».